Psychic Illusion On Stage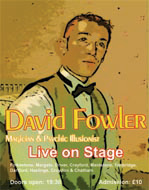 For details on David's up and coming shows, please CLICK HERE
David's show is an amazing demonstration of mind reading, future seeing and seemingly impossible feats of mental ability.
Watch as the deepest thoughts of the audience are revealed, future events are foretold and witness David as he proves that he knew the winning lottery numbers before the draw was made.
Audiences will be left spellbound by a show where their participation is a must.
David's show is perfect any event where you want something a little different from your entertainment and can vary from anything from a full 2 hour show to a 10 minute variety act.
The show can be tailored to suit the requirements of the venue and David is keen to work with the client to ensure that his show meets all their needs.