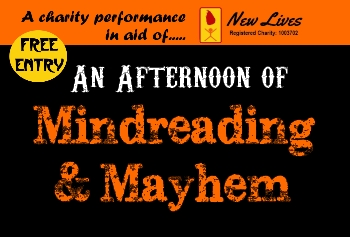 An Afernoon of Mindreading and Mayhem
Please click HERE for full details of David's latest and totally FREE stage show in aid of the New Lives Charity.
About David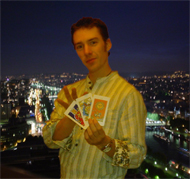 David's unique brand of mental magic and psychic illusion is at the very cutting edge of modern magic.
David's fusion of traditional magic with psychology, hypnosis and age old techniques of the séance room ensure that audiences are treated with a remarkable experience that they'll never forget. Reaching deep into the audience's minds to reveal their darkest thoughts, psychologically influencing their actions and predicting events ahead of time are just a few of the skills David brings to his truely remarkable performances.
David discovered a passion and aptitude for magic at a young age, inspired by watching the likes of Paul Daniels and Uri Geller on Saturday night TV.
Later, an interest in the occult, psychology and his unending thirst for an understanding into how the mind works lead him away from the traditional, more mainstream areas of magic and into the dark, enchanting and fasinating world of the Psychic Illusionist.